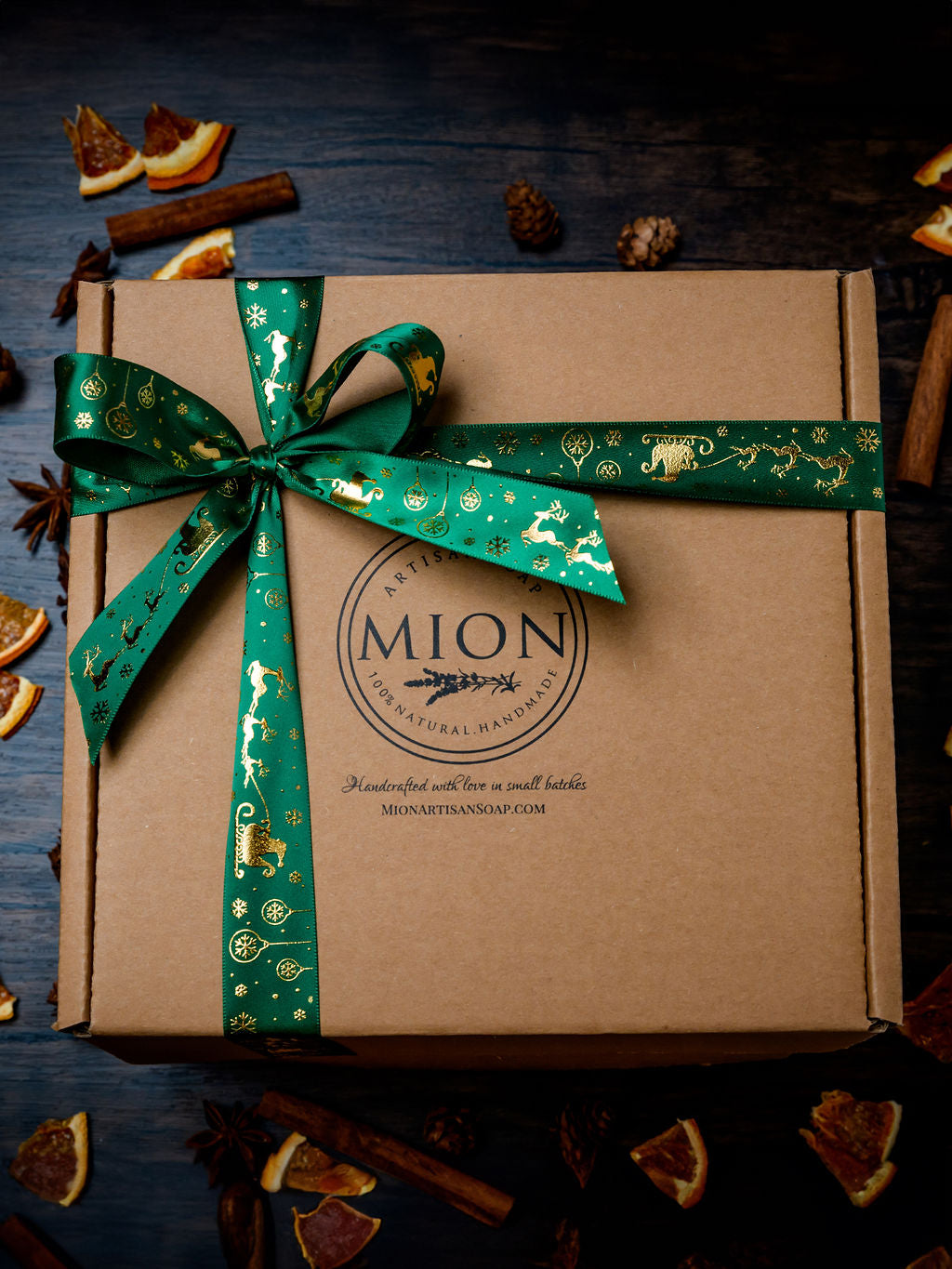 MION Holiday Shopping List: Gift Set Selections
What does your holiday shopping list look like? We have a variety of gifts prepackaged at a range of price points to meet your holiday shopping needs! Build budget-friendly gifts with a customized holiday gift tag along with beautiful holiday ribbon for a personalized touch.
If you're an employer or business owner seeking some corporate gifting opportunities, do not hesitate to reach out to us! We enjoy doing custom orders this time a year to help you share a little holiday cheer and show your appreciation. Like the 12 days of Christmas, we have 12 gift boxes ready, wrapped and waiting for you to shop in stores or online!
MION Prepackaged Gift Boxes
1. Daily Essentials Set (3 Scent Options) - This affordable gift box consists of our hydrating lip balm, moisture-locking hand balm and invigorating soap bar.
2. Mind and Body Set (3 Scent Options) - Included in this exquisite gift are two artisan bars of soap, an essential oil roller, a replenishing hand balm, as well as a soothing lip balm. 
3. Pamper Your Feet - Give the gift of an at-home spa treatment. This delightful gift set includes a bath soak, dead sea salt scrub, a nourishing heel balm and a revitalizing pumice stone.
4. Clean Home Set (4 Scent Options) - This is the perfect gift if you don't want to commit to purchasing a specific skincare item. The set includes an all-natural home cleaner, a refreshing room spray, a gentle foaming liquid soap, an artisan bar of soap and a sustainable bamboo soap dish.
5. Relaxing Bath Set (2 Variants Available) - Encourage relaxation with this custom gift this holiday season. Inside this delightful gift set, you'll find a soothing bath milk, a charming soy wax candle and a luscious artisan bar of soap.
6. Soothing Bath Set (4 Scent Options) - Inside this luxurious gift set, discover a rejuvenating body scrub, a serene soy wax candle, a relaxing bath salt and a sumptuous artisan bar of soap.
7. Breathe Easy Set (Eucalyptus and Peppermint Infused) - This gift offers the stress relief we all need! Inside this enchanting gift set, discover the delights of our whipped shea butter, an artisan bar of soap, a soap hemp bag, shower steamers, an essential oil roller and a nourishing lip balm.
8. Eco-friendly Home Set - This gift is a great introduction to a an eco-friendly lifestyle for your loved ones! The set features a luscious body butter, a foaming liquid soap, a practical dish soap, a sustainable dish soap brush and a natural hand sanitizer.
9. The Body Set - This exfoliating and moisturizing gift set includes a sumptuous body scrub, a lavish body butter, a soothing hand balm, an artisan bar of soap and a hydrating lip balm.
10. Healing and Nourishing Set - This gift promotes natural remedies for healing the body! Uncover the powerful healing properties of nature with our turmeric and ginger sugar scrub, turmeric infused whipped shea butter, pain relief salve, an artisan bar of soap and a soothing lip balm. 
11. Baby's First Christmas Set - This natural baby box includes baby oil, organic baby lotion, all-natural baby soap, diaper cream, baby bath tea and a sea sponge for gentle bathing.
12. Complete Face Care Set - This starter kit allows for the opportunity to implement a new natural face care routine using our best sellers. Inside this special gift set, find our most loved rosehip anti-wrinkle face cream, face serum, deep repair eye serum, face wash, eye makeup remover, face toner, rose clay face mask and a gentle konjac sponge.
We understand shopping around the holidays can be a little overwhelming, so our goal is to make your experience as simple and efficient as possible. Customize and personalize your gifts in stores and online, and feel free to ask any of our associates any recommendations to find the best gifts for your friends and family this holiday season! Cheers!